Industrial automation products traditionally relied on proprietary hardware and software, even when incorporating commercially available technologies. Now industry is following the lead of enterprise by fully adopting open source.
An experienced generation of industrial automation professionals has relied on proprietary hardware, software, and communications products for many decades. These products have delivered dependable real-time control and visualization for countless applications, incrementally incorporating many commercial technologies like PCs, Ethernet, and virtualization. However, conventional industrial products can be awkward to integrate with the latest cloud and industrial internet of things (IIoT) technologies, and in many ways, they tie the hands of users.
The next improvement for industry is the adoption of open-source technologies. Open source is commonplace for enterprises, consumer products, and internet applications. However, open source represents a disruption in the industrial market, not only from a technology standpoint, but also as a philosophy.
Industrial automation users faced with any of the following challenges are ready to progress to open source:
Confronted with complicated and expensive solutions to access increased computing resources
Struggling to incorporate IIoT devices, data handling, and cloud connectivity
Technically limited by traditional products
Open-source technologies address each of these issues because open industrial automation platforms are:
Economical and extendable, freeing users to obtain and implement just what they want, when they want it
IIoT-ready, with simple connections to common web platforms
A revolution, completely redefining how robust control is enhanced by additional processing
This article explains how open source is coming to industrial applications, why it matters for end users, and how it provides solutions to common problems.
What is Open Source?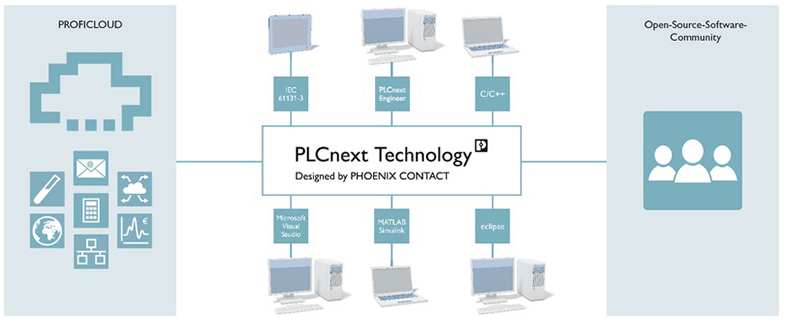 Traditional proprietary products are licensed, locked-down, or otherwise protected so the supplier can sell them to end users. Many of these products, especially software, can constrain end users technically and commercially.
Open-source software projects are a completely different model, where large groups of developers create innovative code and license it to be inspected, modified, or used by anyone at little or no cost. Open source is widely used for the internet (web servers, web browsers, databases) and for computer operating systems (Linux).
Only recently have open-source concepts been applied to the types of products used for industrial automation. The result is a class of products offering equal or better performance compared to conventional counterparts, but providing endless additional options for end users.
Old Versus New
For decades, industrial automation users have relied on incrementally improving versions of:
Programmable logic controllers (PLCs)
Input/output modules (I/O)
Operator interface terminals (OITs)
Human-machine interface (HMI) software
Supervisory control and data acquisition (SCADA) systems built using the preceding items
These products work well but are mostly proprietary. That means end users pay a premium, can only use what the vendor offers, and are locked into product ecosystems.
Open-source industrial automation platforms are typically built using specific versions of Linux and are provided with built-in features to deliver the functionality of PLCs, I/O, and HMIs—often in one package. Plus, users can add as many or as few custom elements as required for each application, with the flexibility to quickly make changes without incurring excessive expenses.
How Does Open Source Improve the IIoT?
IIoT devices like smart sensors and systems are designed with built-in connectivity, often wireless. These implementations work well with newer IT-based communication protocols, such as MQTT, which are natively available in open-source control products. Furthermore, open-source control products provide simple connections to cloud-based platforms like Amazon Web Services (AWS), Azure, Google IoT, and more. Open-source platforms are the natural method to easily connect IIoT devices to the cloud, allowing end users to collect data and analyze it to improve outcomes.
How Does Open Source Improve Industrial Automation?
Industrial automation users are familiar with the limitations of conventional technologies and often spend time figuring out workarounds. Open-source platforms remove constraints and open doors by enabling code migration among applications and platforms.
The most comprehensive open-source automation platforms are provided with baseline features so users can begin working with them right out of the box, such as standard IEC 61131 programming languages. In addition to performing the expected basic functionality, users are free to create new possibilities:
Install advanced programs and algorithms using high-level languages, with execution in the controller
Host web pages and HTML5 content directly from the controller
Obtain, process, store, and transmit data
Easily connect with cloud-based systems
Another consideration regards the engineers and designers using industrial automation products. The experienced generation already in the field are familiar with proven traditional methods, while the newest generation of programmers expects to use state of the art technologies. Open-source platforms let all users work in parallel to provide best-of-breed solutions.
How Can Open Source Be Secure Enough for Automation?
Security is a top concern with any system, especially when it can impact property and people as is the case with industrial applications. Open-source projects are maintained by responsive teams of developers who can react quickly to issues. Furthermore, industrial open-source platform should be designed following the IEC 62443-4-1 standard for a secure produce development lifecycle, which assures users that the product is secure by design.
How Does Our Company Start with Open Source?
Today's industrial users are looking for ways to improve their automation options, incorporate the IIoT, and provide better connectivity and visibility. Open-source platforms are adaptable, allowing users to install them right alongside existing systems in a data-handling role. For new projects, open source can act as both the real-time control platform, and the information gateway for data and visualization.
Open-source industrial automation platforms are truly open, IIoT-ready, and revolutionary. The technology is flexible and scalable, so end users can start with a small test system, grow it as needed, or perform their entire next project using open-source hardware and software. Open source is the next step along the path to the future of industrial automation.
How helpful was this article? Click a star to rate.
[

14

votes so far. Average rating of

4.1

]