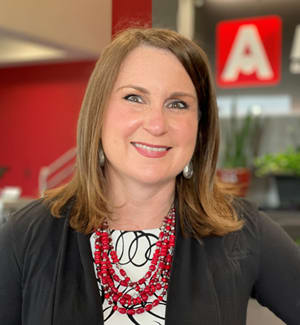 Marie Dawson
Product Director at Allied Electronics and Automation
Allied's "Ask the Expert" series taps into the experience and expertise of key thought leaders and subject matter experts from the more than 500 global suppliers we work closely with to bring customers solutions for their most challenging problems (and the daily ones, too).
We are spotlighting some of the remarkable women in tech who have worked to become respected authorities in their industries. Today, we talk with Marie Dawson, Product Director at Allied Electronics and Automation, who provides astute insights into some best practices in the supplier selection process, as well as the role distributors play in the supply chain.
What are some of the highlights of the career journey that led you to Allied, and what are some your favorite things about your position here?
Early in my life, I never thought I'd be in product management. For years I wanted to be a lawyer, and then I decided I was going to be a teacher, and then in my senior year of high school I ended up being only one of four kids who were chosen to be an intern at Bell Helicopter Textron. I originally said no to the interview because I wanted to pursue teaching, but then they said I could do my internship in training and development. During my time there, I came up with an entirely different view on how Bell could better implement their trainings for helicopter dealers, and my supervisors were so happy with my work they offered me a position in contracts administration for the summer. I learned so much there being able to see the entire sales process from the signing of the contract to the delivery of the helicopter, and I had so much fun that I changed my major to business and began this really wild journey that led me to Allied.
What I love so much about product management is that it really does influence all parts of the customer journey. I get to be a part of the selection process, the contract process, and I get to work with the team to determining how we are going to launch new suppliers and market them. I also get to work with our current suppliers to help their sales grow focusing in areas like ensuring complete product offerings, engaging with the sales team, enhancing content to help customers make informed purchasing decisions, and marketing plan execution to drive visibility. Getting to see our work translate into success for our supplier brands is a lot of fun!
The manufacturing industry is evolving at an unprecedented rate, and with that have come some drastic advancements in supply chain methodology. What are some recent trends and developments you've seen with regards to the modern manufacturer's supply chain structure?
When it comes to how customers are looking at their supply chain structure, we have really become a "now" society. One of the most important metrics for manufacturers and distributors today is availability — providing customers with the certainty that the products they need are available in the quantities they need them, when they need them. That in my opinion is the biggest trend. We've seen a lot in the last three years with economic fluctuations, manufacturing expansion into different parts of the world, new tariffs that recently came into effect, and of course the pandemic, really the only question that matters to those operating in this environment is "How do I get what I need now?"
What is the role of a distributor in this "inventory now" environment? What value does a distributor such as Allied bring to the manufacturer/supplier relationship?
One of our jobs as a distributor is to work with teams in our ERP system to gather intelligence and to understand what our customers need to make informed purchasing decisions before they know they need it. This is particularly valuable in today's market as it aids suppliers in adapting to this just-in-time, "inventory now" model their customers currently use. Suppliers themselves don't operate using a just-in-time model; instead, they depend on us to understand their lead times, any external conditions in play, and our customer's needs, so we can keep enough inventory on hand to satisfy customer demands. That's really the value Allied provides to the marketplace — with our help, our customers can mitigate supply risk, because we can handle all the planning for them. And, of course, we do all this with the human touch of our sales team, who even in a digital environment can provide personal consultation with anything from delivery expectations to build designs for a new project.
With so much emphasis placed on product availability, how has the supplier selection process at Allied changed in recent years? What are some of the criteria you and your team use to determine which suppliers to feature?
From my perspective, we are very stringent in our supplier selection process, because we want to make sure that we're able to provide a great customer experience. That's worth defining — by customer experience, we look at the entire customer journey, not just the product itself.  How much support suppliers provide us from a marketing, content and technical perspective are important factors. We have an amazing sales team, but sometimes they need backup. One of the things I look for in a supplier is their ability to partner with us and provide additional live support for our customers. Are they willing to work together with us for the customer's benefit? Do they provide design support? Is the product unique?  Is there something distinctive about the product that will make our customer's lives easier?  Do they do custom designs? Are we able to able to provide engineering support? How responsive are they to lead times? We monitor trends such as lead times on our own, but it's also important to know how much of a true partner the supplier can be. Then, we can help our customers make better decisions and provide them with an exceptional overall experience.
Also, during the selection process we value adherence to our value proposition. There are a lot of brands that we could choose to work with that could provide a lower price point, but maybe the rest of the experience they offer isn't so great. Price point is important, but it's only a piece of the full picture. Our focus is really on featuring suppliers that offer products providing great total experiences for our customers and essentially making their lives easier.
How many suppliers does Allied have on their website currently?
The number is always growing, but right now we have over 600 suppliers on our line card! We're always pursuing new partnerships and striving to increase our offerings to meet customer needs and improve the purchasing experience.
From your perspective, using resources provided by the distributor, what are some key factors a customer must keep in mind during the supplier selection process when multiple suppliers offer the same part?
Price is a critical piece of the purchasing decision, but it's not the only piece. There is a lot of research that shows, when ranked, pricing comes behind other factors like quality, availability, and support. Price can largely categorize similar offerings as "good, better, or best," and each customer's situation and risk tolerance is going to lead them one direction or another. Does the customer just need a basic product that can do the job, or do they need more enhanced features? Such a decision might come down to factors like the customer's application, what type of warranty is offered, what type of support the supplier offers, or what kinds of customization options are available. Those kinds of options really do make a difference.
Also, never underestimate the power of a product's reputation, or the reputation of a supplier. Prior information on the reliability of a product or supplier can play a huge part in the decision-making process. This is where the value of personal relationships comes in — which happens to be something Allied excels at. Our job is to provide the available options to our customers, based on our knowledge and experience working directly with our suppliers and provide the pros and cons of each that we can then pass on to our customers. Our goal is to give customers the ability to make informed decisions they can feel confident about.
Does Allied have any resources available to aid customers in the supplier selection process?
We actually do! You can go to Allied.com and start looking for products, but criteria users can access goes far beyond part names and numbers. For example, through our parametric search functionalities, if you're looking for specific type of product, we can tell you what supplier brands carry it, as well as what offers we have available on the site.
Another invaluable resource is our salespeople. They are knowledgeable with access to many different resources and help by understanding a customer's needs and expectations which of the suppliers and products are worth considering in that space. On the design front, we have a great tool called DesignSpark that is constantly evolving.  Our Tech Support team is awesome at working with our customers to help them understand what their product needs are for new designs and how to best avoid risks such as product line obsolescence.  Finally, since we have personal relationships with our suppliers, we can engage directly with the suppliers to provide new design support.
At Allied Electronics & Automation, one of our goals is to allow customers to work with us however they are most comfortable. They can communicate through AlliedElec.com, directly with our team, or a hybrid of both!
Additional Links:
How helpful was this article? Click a star to rate.
[

1

votes so far. Average rating of

5

]