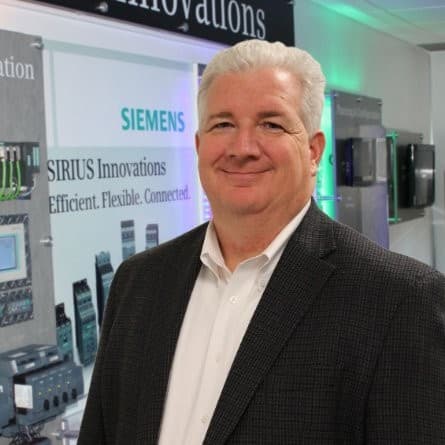 John Burns
Target Market Manager & Lead Application Consultant for Electrical Products Group, Siemens Industry Inc.
Allied's "Ask The Expert" series taps into the experience and expertise of key thought leaders and subject matter experts from the more than 500 global suppliers we work with to bring customers the right solutions for their most challenging problems (and the daily ones, too).
This edition complements an Ask the Expert video with DesignSpark's Greig Cameron with John Burns. target market manager and lead application consultant for the Electrical Products Group at Siemens. In the conversation, John talked about motor starters and the innovations and advantages to look for when choosing switching and protection components.
Quality Components Make a Difference
Downtime is money, so reliable, quality switching and protection components must be part of every control cabinet build. There's a temptation to use less expensive parts, but the small increase in initial cost of quality components pays off quickly as downtime is greatly reduced or eliminated for the end user. As the quality of product within a control cabinet increases, so does the ability to diagnose a problem within that control cabinet. Poor quality parts tend to increase the frequency of downtime for end users and can extend each incidence of downtime due to a lack of diagnostics needed to help users figure out what failed.
Using quality components also gives users consistency across the line. If panel builders use different size motor starters and do not use quality products, the components may mount differently, the accessories will be different—there are many aspects to those starters that may be impacted beyond just quality.
Modularity Saves Time and Costs
Key considerations for building control cabinets include wiring time, saving panel space, and whether components meet national regulations and industry codes. Because the panel can contain different-size motor starters, the consistency offered by the manufacturer is important. For example, one advantage with Siemens' motor starter designs is their small frame sizes. Side by side, the 10 hp contactors (S00) and 25 hp contactor (S0) are very similar in size and structure and link together easily saving on panel space, assembly, and wiring time.
For connecting the contactor, Siemens has a mechanical link module that connects the devices. It locks into the protection device and then mechanically and electrically connects the contactor. This design is very secure and saves space by having the link module in with the system. It also significantly reduces the cost of installation just on wiring time alone. Think about the benefit here—if one panel shop has a distinct wiring time advantage, the cost of the panel build will be lower, enabling a more competitive bid.
The comb bus bar system is also a great solution to bring 3-phase power wiring to multiple starters. A feeder connection brings in 3-phase power one time and different combs for different size starter assemblies bus that 3-phase power across all the starters. This is a cost-effective, quick way of wiring multiple starters together, where you can sit 10 hp and 25 hp starters side by side. If a customer needs 20 panels, using this system can result in a huge time difference, again, giving the panel shop an advantage to win more business.
Spring Clamp Termination Provides Speed and Security
Even though in the U.S. screw-type termination is the most prominent, the spring (or cage) clamp system is gaining in popularity—and is the most used in Europe, for good reason. Spring clamp termination provides a secure pop-in connection that makes assembly much quicker and is very secure over time for the end user from a vibration standpoint. Typically, when a motor starter or other device with screw connections is shipped to the end user, the screws loosen during shipment and the customer needs to tighten them all again. With the spring clamp, the user won't have that issue. Also, from a replacement standpoint, the cage comes apart much faster in the field for quicker replacement if needed. While spring clamp termination is still gaining traction in the U.S., I have not seen a customer who has gone back to screw terminations after they've tried the spring clamp.
Advantages of Buying from the Same Manufacturer
At Siemens, we put a lot of thought into the modularity of our designs. For example, with the typical comb busbar system (with 3-phase wiring), if you have four starters side by side and starter three goes down, to replace it you have quite a bit of disconnection to do to make that repair. We added an easy plug-in module with a backplane that provides touch-safe 3-phase power across the busbar system. For the shop, it is quick to assemble, easy to design in, and carries the same power rating as the comb busbar system. If one starter fails, the end user can then easily switch out that one starter and leave the others under power with this touch-safe design. This can reduce downtime significantly because you don't need to bring the whole panel to a stop.
Commonality of accessory items is also an important benefit. For example, if you want to add an auxiliary contact block onto our system, it plugs in easily to the smaller or larger contactor and can be used on 10, 25, 50 and 75 hp motor starters. Having common accessories across different-sized motors greatly increases the familiarity for the panel shop to easily add, use and remove, and having top-mounted accessories still allows the side-by-side placement of the starters without impacting the wiring or assembly of the adjacent starter. There is also less cost in terms of inventory (accessories) because you can use one type of accessory across multiple applications.
A Look at Siemens SIRIUS modular systems
A traditional starter takes five wires per starter—two for the coil, two for the auxiliary contact, and one for the fault condition. In the SIRIUS modular system, we implement a new communication technology onto our existing starters (for 10, 25, 50 and 75 hp)—a three-wire connection instead of five. Imagine having four starters side by side—you can have direct starters, reversing starters and/or two-speed starters—and that bank of starters is fully controlled and monitored with the same three-wire connection. In effect, this new modular system replaces 20 wires (5 wires in each of the 4 starters) with just 3 total. This design leads to less time cutting, terminating, and labeling all the wires (3 vs. 20), plus the user has more control and improved diagnostics than with the traditional starter. There's even a cost-effective monitoring relay (I/O link) that can directly couple on the bottom of the contactor to get back motor current as max current, individual current, phase asymmetry and more. About a dozen analog signals can be brought in off of the I/O link monitoring relay from this setup. In addition, the monitoring relays can all funnel back to one IP address instead of having an IP address assigned to each module with an Ethernet port.
Look for advantages like these when you shop for switching and protecting components for control panels. Watch the video to see John demonstrate how modularity and other features benefit both panel builders and end users.
Ask the Expert – Motor Control Panels with John Burns
How helpful was this article? Click a star to rate.
[

0

votes so far. Average rating of

0

]