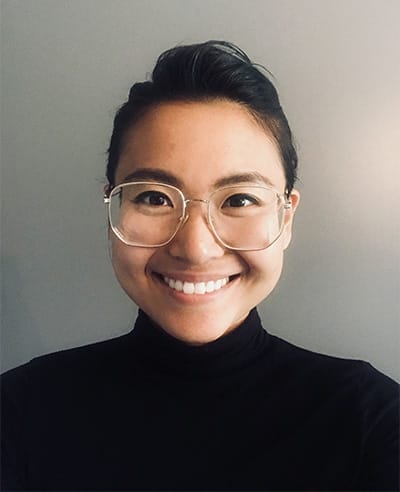 Sylvia Feng
Product Line Manager at Belden, Inc.
Allied's "Ask The Expert" series taps into the experience and expertise of key thought leaders and subject matter experts from the more than 500 global suppliers we work closely with to bring customers solutions for their most challenging problems (and the daily ones, too).
Continuing our recent focus on women in tech, we had the pleasure of talking with Sylvia Feng, Product Line Manager at Belden Inc. In our discussion, we covered topics ranging from the defining features of the current industrial age to how Ethernet technologies are evolving to meet the higher demands of today's applications to what new products Belden is bringing to the table to prepare their customers for a secure, interconnected future.
What does your role at Belden entail? What about this role and industry originally inspired you to pursue this professional path?
I am currently the product line manager for Belden, where I manage industrial Ethernet, Databus, and RJ45 connectivity products. Because of the nature of the products I manage, I also focus on the innovation process for the industrial cable business. I have a lot of direct contact with customers, and I often work with them on innovation workshops to generate ideas and create a funnel for innovation. We start with customer problems, and brainstorm different engineering ideas, and then select the top ideas to be defined into an NPD project for which I will create a supporting business case. On average, we've been launching six to eight new products every year, so there's always something new coming out every quarter. It's a very exciting time.
I think there is a big potential to digitize and automate this whole industry. Compared to some consumer-facing industries like retail, the manufacturing world is lagging behind. According to AWS, manufacturing is the biggest producer of data, yet the smallest consumer of data. Less than 5% of plant data are acted upon based on a research done by Frost and Sullivan. I see data transmission as the central nervous system for various industrial verticals. There will be disruption in this industry. That's what's originally attracted me to Belden —we're at the core of that nerve system.
What would you say are the defining features of the manufacturing world today, and what demands are these features placing on today's manufacturers and engineers?
Instead of just automating the motions, today we are automating the decision-making process and using channels of data from sensors, gauges, and valves to tell a story. All of this can be overwhelming. A control engineer for a production line has to be the conductor of the orchestra; they have the difficult responsibility of ensuring everything runs smoothly with high efficiency and quality without downtime or surprises. At Belden, we strive to build strong and ruggedized industrial network foundations by streamlining data funnels for the user. Instead of giving someone a whole dashboard of data to sort through, we're trying to think of ways to leverage incoming data to provide insights and actions.
What role does Ethernet connectivity play in a world that is increasingly becoming more wireless? How do both complement one another and accomplish different objectives?
First, whenever you see wireless usage, there has to be a connection that provides wireless access points, and usually those are hardwired with either a fiber or copper Ethernet solution. You definitely need some cabling infrastructure to support wireless access.
Additionally, it is important to note that each connection type has a purpose. Wireless communication on sensors or robots are typically used for non-mission critical operations. For instance, in a certain application, temperature or pressure inputs are nice to have, if they don't work or if there is a lag or delay in signal transmission, it won't cause any downtime for the production line. In this case, we can use a wireless sensor for ease of deployment. For time-sensitive networks or mission critical applications, people typically choose to use not only hardwired connections, but also redundancy which provides system assurance, certainty, and predictability. The best practice for industrial network is to use a ring topology such as MRP (Media Redundancy Protocol) or Fast MRP to make sure if a signal path breaks down there's an alternative to recover within 200ms or 30ms respectively and avoid downtime on the manufacturing floor.
There are a variety of variables in play when one is attempting to create a reliable, secure network. What aspects of a network are typically most responsible for failures or constitute the highest level of risk?
According to Datacom Magazine, 35% of network issues come from the physical layer of a network. This is the low hanging fruit, and the single largest area for increasing network uptime. Field termination may be the weakest link on the physical layer due to the potential variations' customers are facing in connector, cable style, and workmanship. I've talked to many control engineers, and they often gave me various examples of when the production line is down for hours because of something like one RJ45 failure.
Going into more detail, when we see a cabling issue in the field, it usually occurs at the connection point instead of in the middle of the cable. Preventing issues like this really comes down to doing the basics really well. It's not uncommon for companies to invest much more in the application layer or software as opposed to the physical layer, assuming that the physical infrastructure will be good for 20 years. We should consider the environmental conditions our network is exposed to, such as EMI, RFI, vibration, extreme temperature, chemical exposure, UV, water or dust, etc. Find and specify the product designs, such as shielding, conductor stranding, cable jacket compound, IP67 rated connectors, and so on, that protect the signal transmission against one's specific application challenges. Based on the designed life of one's physical layer and the acceleration factors in that environment, one can better estimate the life and reliability of the cabling infrastructure and take preventative upgrades before failure.
What steps can an engineer take to minimize these risks?
Belden has several creative and innovative ways to avoid these common problems. A good example is our Industrial REVConnect connector, one of our field termination RJ45 solutions. With a typical field-termination RJ45 connector, you will have to separate and straighten the pairs, hoping this will not disrupt signal transmission too much, and feed eight conductors in the right sequence simultaneously into a very tight connector housing, hoping the conductors will be aligned properly to the RJ45 pins. There's a lot of opportunity for failure in this process.
Industrial REVConnect connectors use a universal core for plugs and jacks that does not require the separation of pairs. All you need to do is untwist a few times, make sure each pair is in the right channel, while maximizing signal integrity in termination, insert the cap onto the core to hold the pairs in place, protecting again typical vibration on the factory floor, and then crimp to create a very secure, reliable insulation-piercing contact that guarantees 10 years of use in the field. This is particularly useful for an operator who does not have perfect technique; the learning curve is so subtle that I could do just as good of a job as someone who has been doing it for years.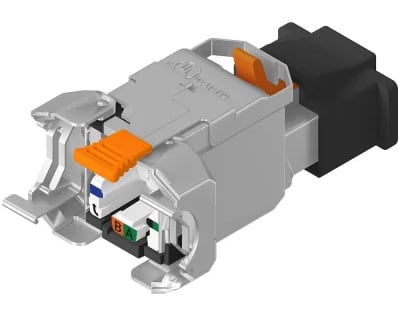 REVConnect connectors
How do single-pair Ethernet (SPE) cables differ from industrial Ethernet cables? What are the functions of each?
SPE is a new standard that has the ability to bring Ethernet all the way to the edge. Today, IT uses Ethernet in the data center or an office environment, connecting and powering cameras, telephones, TVs, etc. On the industrial side, we use Ethernet to connect backbone, PLC, and various edge equipment and devices, such as human-machine interface (HMI), sensors, and meters, but traditional four-pair Ethernet cannot always reach the edge due to its 100-meter imitation, especially for applications like oil and gas, water and wastewater. SPE, by contrast, can go up to 1,000 meters. With power over data line (PoDL), users can communicate to the majority of their field devices in remote locations, and power them up to 50W, all via a single twisted pair. Soon, SPE will replace fieldbus cables, converging the network either on enterprise IT or industrial OT side to Ethernet protocol, and greatly simplify network infrastructure from cloud to the edge around the world.
Don't expect SPE to replace four-pair Ethernet in the near future; as they serve different purposes. For example, 1km SPE delivers low bandwidth over a long distance at 10 Mb/s, while four-pair Cat 6 gives 1Gb/s over 100m.
What considerations need to be made by the engineering team when making the decision to improve or solidify an Ethernet network?
Engineers must understand the speed, bandwidth, frequency, and PoE requirements they need. That's the most basic consideration. To understand the application environment of the network we use the M.I.C.E. ratings — which stands for mechanical, ingress, climatic, and electrical — to ensure we're considering various environmental stresses ranging from vibrations, water dust intrusion, temperature, UV, chemicals and electromagnetic noise risks. For example, if a customer has an application next to a high-voltage welder or a variable-frequency drive, we will recommend using a bonded-pair cable for better noise cancellation, foil and braid shielding to protect signals from any outside interference. A MICE rating of 1 indicates office-like environment, when any of the 4 aspects has a rating of 2 or 3, we recommend using Industrial-grade cable and connectivity.
What are a few products on Belden's line card that should be considered if a network upgrade or repair is necessary? What are some of their unique features that can aid engineers in facing today's challenges?
We actively reach out to our customers using the challenges they're facing to inspire innovation in the solutions we provide. The future is forced upon us. To help our users prepare for that, we are launching high-speed, high-bandwidth products such as DataTuff® Cat 6 PLTC industrial Ethernet cables for brown-field upgrades or future-ready greenfield projects. Our bonded-pair DataTuff® Cat 6A product line offers protection against EMI, oil, UV, chemicals, and extreme temperatures while delivering 10 Gb/s of bandwidth and 100 watts of power over Ethernet. Right now, our customers may not need 10 Gb/s, but in the future with the pace of automation, deployment of industrial cameras, and the utilization of data, images, and videos becoming staples of the industry, additional bandwidth will quickly become more and more relevant.
Additional Links:
How helpful was this article? Click a star to rate.
[

2

votes so far. Average rating of

5

]