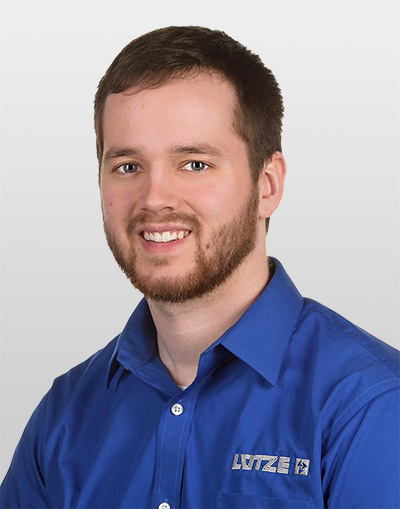 William Dorow
Product Specialist, LUTZE Inc.
Allied's "Ask The Expert" series taps into the experience and expertise of key thought leaders and subject matter experts from the more than 450 global suppliers we work closely with to bring customers solutions for their most challenging problems (and the daily ones, too).
In this edition, we talk with William Dorow, product specialist for LUTZE Inc., about wires and cables and why they are still critical for connectivity even—or especially—in the age of Industry 4.0 and the Internet of Things.
Wireless connectivity seems to be the star in this age of Industry 4.0 and emerging 5G, but can you tell us the important roles wires and cables still play?
Wireless connectivity has come a long way in recent years in terms of speed and reliability, but wired networks still offer numerous benefits that can't be matched by wireless systems. One of these key areas is transmitting power over Ethernet, what is commonly called PoE. Most Ethernet enabled devices require an external power source or prefer more consistent power than a battery can provide. By using PoE, these devices can be powered though the same cable they use to receive and transmit data.
Wireless connectivity also has its limits. What industrial applications are best suited for wired solutions? Can you give us one or two real-world examples of wiring being better than wireless?
Wired solutions tend to be the best option for industrial applications that experience a lot of noise and interference. For instance, if a production line is using a vision system for quality control, there may be numerous variable frequency drives (VFDs), motors, and other sources of interference along the signal route that could disrupt the transmission. These vision systems not only require high signal integrity, they also need a high rate of data transfer. In a wired network, we're able to maintain these speeds while also protecting against a lot of the interference generated by industrial equipment that could slow down or ruin the integrity of a wireless signal.
Since both wired and wireless connectivity have their advantages, can you give us one or two examples where wired solutions and wireless connectivity may work in conjunction with each other in certain applications?
Most wireless systems in industry will use physical wiring for the network "backbone." As an example, a warehouse may have a network of autonomous forklifts that are used to move materials around for shipping or packaging. In order to keep track of and control these vehicles, a series of wireless access points will be installed around the facility. These wireless access points will ping the forklifts within their range for information such as location, speed, orientation, etc. Due to limited range, each access point is only able to cover a fraction of the warehouse, so in order to "see" the whole facility the information from each access point must be consolidated in a central hub. To do this, the access points are wired together back to a central processor. The information can then be used to coordinate forklift or automated guided vehicle (AGV) movements. Instructions can then be sent back to the access points and transmitted wirelessly to the vehicles.
How are distributors and suppliers now bundling devices with the necessary wiring/cables to make things easier for builders/engineers/designers?
The great thing about Ethernet is that the physical infrastructure is standardized among all manufacturers. This means that you can purchase a device from one manufacturer and connect it to a device from another, using cable from a third. At LUTZE, we focus on the Ethernet infrastructure and connections between device A and device B. We have a full line of products to take a wired connection from one point to anywhere else in an industrial environment. This includes a wide variety of Ethernet cables, as well as connectors for making terminations and devices for cabinet access. Because Ethernet is standardized, distributors are able to very easily package devices from other manufacturers with the cables and connectors we focus on and provide their customers with a complete end-to-end solution that wouldn't be possible from just one manufacturer.
What are some key factors engineers/designers need to consider when searching for the most suitable wires and cables for their application?
The number one thing to consider when specifying an Ethernet cable is the installation location. The performance of Ethernet cables (in terms of speed and bandwidth) is standardized, so the main difference between one cable and another is its suitability for the installation environment. For instance, a cable for use in an office may not be suitable for an outdoor installation but will work for years in an office with no problems.
A good way to determine what your cable needs are is to determine the M.I.C.E. rating for your application. M.I.C.E. refers to the mechanical, ingress, climatic/chemical, and electromagnetic characteristics of an application. By determining what kind of challenges the cable will face, you will be better ready to determine what kind of features you will need. These cable features include things like shielding, oil resistance, temperature rating, and UL approvals to run in different areas within a plant or machine.
As an example of a mechanical factor to consider, an application on a robotic arm would require a cable rated for torsional flexing, while a cable installed in a drag chain must be rated for linear flexing. A cable installed in a metal cutting application may need a highly oil resistant jacket to resist the cutting fluid used by the machine. Due to the wide variety of sources of electromagnetic interference that can be present in industrial applications, we almost always recommend using a shielded cable to avoid communication errors.
What are LUTZE's most popular wire or cable products today and what makes them a popular choice among engineers?
One of LUTZE's most popular Ethernet cables is our part number 104397, which many customers like due to the combination of approvals it carries. It's a Cat6A, 600V and PLTC rated cable. The 600V AWM rating allows it to be installed on machinery and in cabinets without physical separation from power cables. The PLTC rating allows it to be installed in an overhead power limited cable tray, whereas other Ethernet and communication cables need a separate raceway. These listings help designers and installers by simplifying their installations and giving them more choices as to where they can install their cables. We've recently introduced a new cable, part number A1040300, that is similar in design to 104397 but can operate at Cat7 bandwidths (up to 600 MHz). This cable combines the benefits of 600V AWM and PLTC ratings, while pushing the cable to Cat7 speeds and adding an outdoor approval.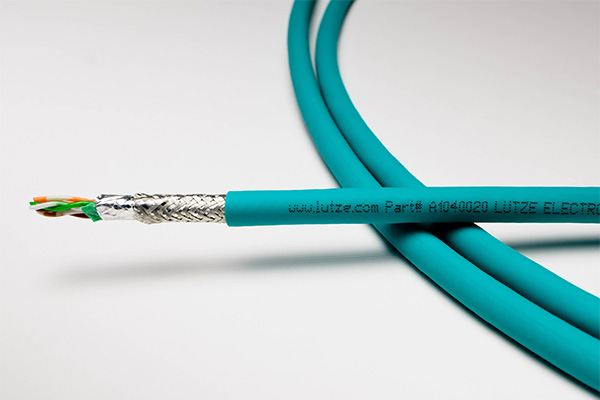 Some other popular products include our MOTIONFLEX® Ethernet cables. These cables are designed for use in a wide variety of continuous motion applications. Their robust design makes them suitable for linear and torsional (twisting) motions, allowing them to be used in both drag chains and robotic applications.
We also have a great line of field wireable connectors in both RJ45 and M12 designs. I would also recommend our cabinet pass-through solutions; they allow for easy access to devices inside cabinets without opening the panel. We've got options for RJ45 and USB pass-throughs that eliminate the need for arc flash PPE or cabinet power down when connecting to devices in a control enclosure.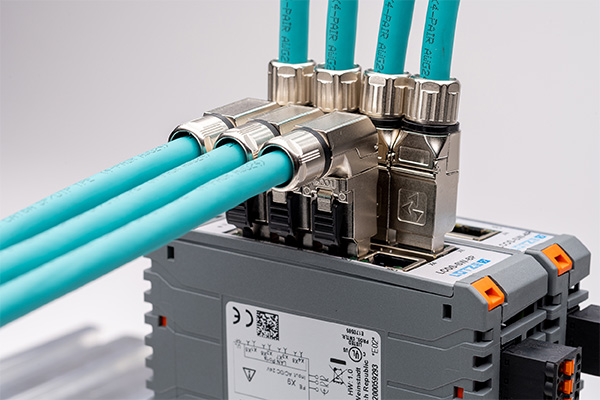 How helpful was this article? Click a star to rate.
[

8

votes so far. Average rating of

4.8

]